A music video for イ・カ・ア・イ・ス 食べなイカ? (IKA ICE Tabenai ka) was released to promote the second season of Shinryaku!? Ika Musume anime. Critical reader might consider statement above to be redundant. The first season of anime is titled Shinryaku! Ika Musume, while the 2nd season is titled Shinryaku!? Ika Musume (note the extra question mark). This song is also available as part of 3rd character image single for Ika Musume.
IKA ICE Tabenai ka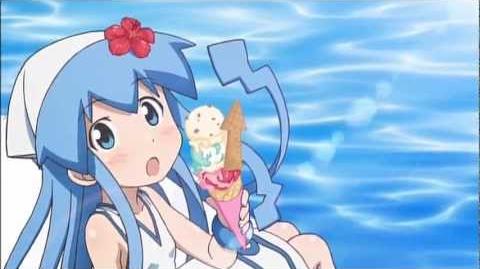 夏バテ夏バテ ばいばいばいばい
もっと輝けお日さま
キライ?(なんとも あっついゲソ)
きらり!(にんとも あっついゲソ)
輝いて(もーだめあっついゲソ)
真夏はイカ☆サマー

浮かれた浜辺 ちゃぶちゃぶちゃぶちゃぶ
もっと集まれ人間ども
ヒトリ?(しゃくねつ あっついゲソ)
ふたり?(じょうねつ あっついゲソ)
集まれば(あーだめ あっついゲソ)
この夏はナニ☆サマー

「かき氷ください」「イカスミでどうでゲソ?」
あーこまかいことは こまかいことは
どうでもいいじゃないイカ!

パ・ラ・ダ・イ・ス
人類も太古は陸じゃなく海に住んでたと
思い出すでゲソ! 帰るでゲソ!
イカめいてイクカ?
パ・ラ・ダ・イ・ス 人類よばいばいばいばい
パ・ラ・ダ・イ・ス はいはい行くでゲソ!
まずは手を10本にしてから…連れてくでゲソ。

ナツナツ名も知らぬ遠きイカのアイランド
ココ椰子の 椰子の実 人類よバイバイのバイバイ!

すいかのビーチボール たっぷたっぷたっぷたっぷ
さっさ気がついて人間ども
これか?(どうして いっちゃうゲソ)
ちがう?(どっちに いっちゃうゲソ)
気になれば(さっさと いっちゃうゲソ)
イカ娘アニ☆サマー

「火星人いますか」「こだまぜやめなイカ?」
あーこまかいことが こまかいことが
意外な盲点でゲソ!

イ・カ・ア・イ・ス
千年も万年でも愛されて海の名物
作るんじゃなイカ? あるんじゃなイカ?
ゲソ味もおかわり!
イ・カ・ア・イ・ス 人類よさあさあさあさあ
イ・カ・ア・イ・ス どんどん食べるゲソ!
磯の香で10杯いけるゲソ…大丈夫でゲソ。

パ・ラ・ダ・イ・ス
人類も太古は陸じゃなく海に住んでたと
思い出すでゲソ! 帰るでゲソ!
イカめいてイクカ?
パ・ラ・ダ・イ・ス 人類よばいばいばいばい
パ・ラ・ダ・イ・ス はいはい行くでゲソ!
まずは手を10本にしてから…連れてくでゲソ。

ナツナツ常夏の楽園イカのアイランド
流れ寄る 椰子の実 人類も椰子の実?
Ad blocker interference detected!
Wikia is a free-to-use site that makes money from advertising. We have a modified experience for viewers using ad blockers

Wikia is not accessible if you've made further modifications. Remove the custom ad blocker rule(s) and the page will load as expected.