INVADER

Limited Edition Cover

Performed By

Ika Musume (Hisako Kanemoto)

Release

Jan 11, 2012

Catalog

Regular Edition: LASA-5110
Limited Edition: LASA-35110
Album release from Ikamusume, a heroine of anime series "Shinryaku!? Ikamusume (The invader comes from the bottom of the sea!").
While most songs have been released before, it includes new song(s) for this album.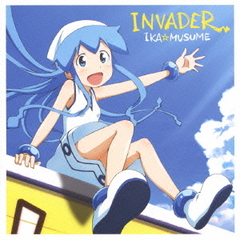 This album was released in 2 editions on the same day.

The limited edition comes with a bonus DVD with an animation music clip of "Kore ga Umi e no Ai Janaika." *The DVD disc is encoded for region 2 (Japan, Europe, and Middle East), and no subtitles are included.